- Notes

- Questions
---
FORMING THE SIMPLE PAST TENSE
PATTERNS OF SIMPLE PAST TENSE FOR REGULAR VERBS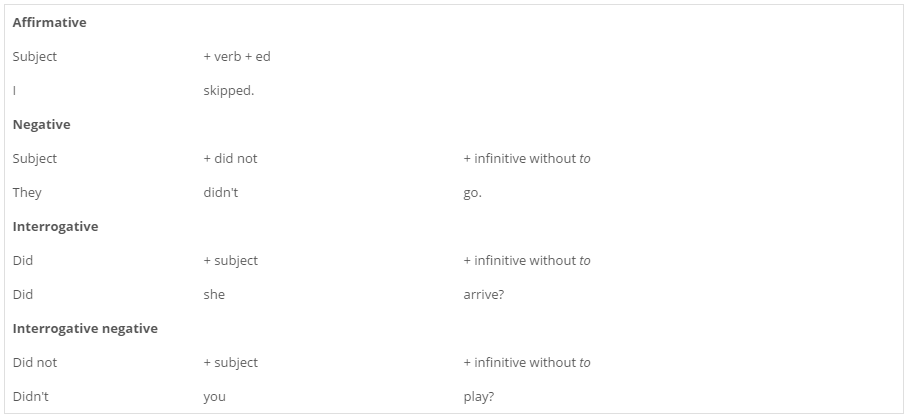 SIMPLE PAST TENSE OF TO BE, TO HAVE, TO DO

NOTES ON AFFIRMATIVE, NEGATIVE, & INTERROGATIVE FORMS
AFFIRMATIVE
The affirmative of the simple past tense is simple.
I was in Japan last year.
She had a headache yesterday.
We did our homework last night.
NEGATIVE AND INTERROGATIVE
For the negative and interrogative simple past form of do as an ordinary verb, use the auxiliary do
The negative of have in the simple past is usually formed using the auxiliary do but sometimes by simply adding not or the contraction n't.
The interrogative form of "have" in the simple past normally uses the auxiliary do.



---
Read the sentences. Choose the correct verbs and transfer all the answers using the paper provided.
---
He .......... out his wallet and paid the bill.
takes
took
---
When she went to the interview, she .......... her best outfit.
wore
wear
---
They left the motorway and .......... for an hour on quiet country roads.
drove
driven
---
I .......... I understood this theory but now I'm not so sure.
think
thought
---
As soon as I .......... her, I knew she was the woman I was going to marry.
met
meet
---
He wrote fourteen novels, but not one of them .......... a prize.
wins
won
---
They built their own house, so it .......... them much less.
costed
cost
---
When I heard you were coming, I .......... the staff the rest of the day off.
gave
give
---
The nurse held the patient's hand and .......... softly to him.
speaks
spoke